'Ello! Inuyasha Fandom here, telling you to post your ideas, concerns, and anything else to your heart's content! Here within the backstage thread, we can post pictures of potential enemies, enemy ideas, story ideas, additions, and anything else. It's not just me who makes this, but my players as well. You're the stars of my play. I only direct, but can take some ideas. Those I really like WILL get used eventually, but there will be votes taking place on several posted ideas (my own or player generated) when accumilated.
Like this lovely enemy: (it's a shikabane)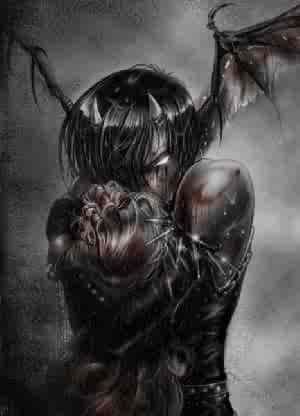 The idea for this shikabane is that he cannot let go of his love, so he kills women who are like his love because she killed him. Or something like that. I dunno.
Shikabane are going to be comprising the majority of our enemies, because angels and demons are harder to spot and track. Shikabane that have succumbed to their regrets and obsessions and monstrous sides can't help what they do, so it's far easier to find them than our other enemies such as angels or demons. They can. Granted there are idiots among them, but not every divine or demonic entity is a retard. I mean, come on, look at us
Even still, WE are salvation, and already just from the character sign-ups i'm enjoying the fine line our Shikabane PCs are walking. Interesting roleplay ideas come to mind. As the ring leader of this, if I have an idea, I personally will discuss it with the player, and I expect the same to be done between the players if they have ideas also for one another. BUT! run it by me first. Odds are, it probably will be accepted if that is done.
First two ideas:
The Shikabane (or Demon) SUV
And next:
The evil plant monster: