Heads up before i put down the plot, i do rp's the old fashioned way (If you can call it old fashioned) where each person rp's as they're own character and thats it (You all may hate me now but thats ok i like rping that way sooo....oh yeah plot!)
Plot:
The humans cant see it but new york has been painted in darkness. Demons, witches, fairies, goblins and others have swamped NY hiding in plain sight, hiding among the humans and fighting each other for territory and more. will you survive?
(Im horrible with plots so hopefully you get the basic idea)
Character Sheet:
Name:
Age:
Gender:
Personality:
Appearance: (Pictures or links are verry much loved.)
Relations: (Boyfriends, siblings, friends and the like)
Bio: (Their history)
Other: (Other random facts)
(I'll make the actual rp when enough people have joined.)
My character:
Name: Alexis (Lexi)
Age: 17
Gender: Female
Personality: You'll See ;)
Appearance: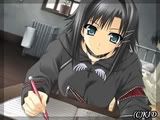 Relations: Her father is a demon mob boss, and she has 3 older brothers
Bio: I'll make one up as i go
Other: She's half demon and half human, most of her demon powers are sealed by an ankle bracelet.