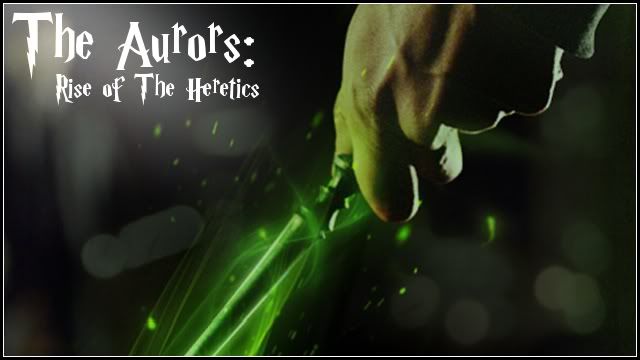 Iceland is cold at the best of times. At the beginning of winter, it was viciously frigid. Ewan wound his coat around him tightly, keeping his head down so his collar would protect his exposed neck against the wind. He walked quickly through the costal town of Sauðárkrókur, a town that was not only hard to pronounce, but hard to find on a map. This made it the perfect location for the IMU headquarters. There was no tourism, and the population couldn't have been more than two thousand strong. Ewan trudged up the hill scowling as flecks of snow stung his face, slipping here and there in the light layer of slush carpeting the landscape. He was met with another sharp gust of wind as he crested the hill, making him groan and wrap his arms around himself even tighter.
The manor stood above the city, long abandoned by its original owners. At least that is how it appeared. Its actual owner was a figurehead in the creation of the IMU and one of the first casualties the organization took, leaving his manor in the hands of the Union.
Ewan cautiously stepped into the courtyard of the estate. A cobblestone path lead up the center and was flanked with what used to be fountains, which were now just a huddle of cracked stone filled with stagnant water. Hand now tucked into his jacket holding firmly onto the handle of his wand. Each step on the cobblestoned path echoed off the high walls, putting him on edge. He climbed the landing, drawing his wand. Ewan went to knock on the door, but was interrupted as an unseen force from behind shoved him into the door and knocked the wand from his hand. He then felt the familiar stab of a wand at the base of his neck.
"State your name and business."
Demanded a disembodied voice that was thick with a Russian accent.
"Finlay, I was called to summit."
Ewan replied in an agitated voice.
A tug on his shoulder spun him around and three forms appeared from under invisibility cloaks. A woman with a stern face held her wand mere inches from Ewan's nose. Two men came up behind her, one had his wand drawn as well and was watching the courtyard closely, the other came up with what looked like a gyroscope in one hand and a golden rod in the other. The woman looked and him and gave a slight nod, he stepped forward and waved the rod over Ewan's person.
"I'm not picking up any glamours or charms, he's clean."
He report to the dour woman.
She lowered her wand.
"Finlay is it?"
Ewan nodded glaring at the woman as he straightened out his coat.
"You're late. It's the third hallway on the right, fourth door."
Ewan turned sharply and entered the manor. The inside was the exact opposite of the outside. The floor was a black marble and the walls were a bright crimson and lined with silk tapestries. Ewan meandered down the hallway admiring the tapestries. A sudden snap made Ewan jump and draw his wand. He brandished it down the hallway towards where the noise came from. A small head poked around the corner at the end of the hallway and darted back behind the wall.
"Flower is to guide you."
Squeaked a small voice.
Ewan lowered his wand, and a dainty house elf stepped from around the corner. She was small even by house elf standards which made her eyes and ears seem that much bigger. She wore what look like a dress she had put together with scraps of rags she had scavenged.
She walked up to Ewan and curtsied.
"Flower at your service."
Ewan stared for a moment not knowing how to react. He gave a small bow and gave her his hand. She grabbed it and started dragging him down the hallway. They passed down the corridors of the manner and realized why they had sent Flower to guide him. It was a veritable labyrinth of a building. Ewan secretly hoped that Flower would be able to guide them out of the building. Flower led him to a heavy oak door that stood out from the others he had seen. Without a word she turned to Ewan, curtsied once again, and with a snap she was gone.
Ewan eyeballed the door and pushed his way through. The room looked more militant than the others before. Around two dozen people filled in some chairs lined up in the center of the room, facing a podium. Ewan skulked into the closest chair and tried not to make eye contact with anyone else.
It hadn't been a few minutes before the door slammed open. A severe man stood in the doorway. He eyeballed the room before marched up to the podium. The man named Percy Weasley looked nothing like he had before. The red hair that his family was known for barely graced his head, cut excessively short and marred by a scar running from the back of his head, across his scalp, to just over his left eyebrow. He looked tired, the lines on his face deeper than a man his age should have, and dark bags hanging from his eyes. Though he was a young man at twenty-nine, he looked as though he could be fourty. He wore an olive drab coat with the right sleeve pinned at the shoulder, where he had lost an arm during an encounter with a band of Snatchers during the Battle of Edinburgh.
He set down a manila folder on the podium. With a groan he reached behind his back, pulling his wand from his beltline and giving it a flick. The manilla folder opened and the contents flew up in the air, sending a piece of paper to each of the people seated in the room.
"We received this message two days ago,"
Percy sighed, giving the room enough time to read the letter's contents.
"Until two days ago, I had thought I was the only one who survived Hogwarts,"
HE continued. Pacing in front of the group.
"Apparently I was wrong. Longbottom survived, and apparently has figured out something we can use.""Mr. Weasley, are you sure there's a chance that Longbottom is still alive? There have been dozens of traps set up like this, how do we know we won't be walking straight into an ambush."
someone in the back chimed. Ewan turned back to see a well dressed middle-eastern man, arms crossed waiting for a reply. There was a moment of silence as everyone waited for the commander to respond.
"There is, Mr. Bakr"
Weasley started slowly, thumbing through a pile of dossiers.
"But that's a chance we have to take. Any information that we can use at this point is our only bet at getting a leg up. Otherwise, we might as well just wait for Him to come kill the rest of us, or send us off to Azkaban."
There was another moment of silence as the commander let the reality of his words sunk in. He slammed his fist down on the podium making everyone jump.
"We are on the brink of losing this war! And with it the world shall fall!"
His voice echoed through the room.
He looked around the room, as if expecting someone to chime in with a rebuttal. He rubbed his eyes and leaned on the podium.
"I'm sending in a team of international Aurors to investigate this. Those of you going were already informed by owl."
He said gesturing to the crowd.
"The rest of you will run support for the team, and will wait in the wings if they need you for anything. You are the best from your respective countries, and now it's time to prove it. "You will start at the source, the ruins of Hogwarts, and continue from there, hopefully following the trail of Longbottom."
At this Percy picked up his wand from the podium and flicked it again, this time a picture landed in Ewan's lap. It was of a gaunt young man with awkward features looking around nervously.
"I am the sole remaining member of my family line,"
Percy said, his tone turning somber.
"But I do not wish to be the last. What you Aurors do on this mission might well determine the fate of all those who oppose those who seek our destruction."
There was yet another pause.
"You are dismissed."
Ewan stood to file out with the others as they all went for the door.
"Will those of you who were assigned to the field team please stay back, I would like a word with you."
Ewan froze in place and slunk back into his seat. After all the others left it was just Ewan with five other Aurors. Percy eyeballed them for a moment before making for the door.
"Follow me,"
---
The six of the followed Percy through the winding halls and he led them to a study with a fire already roaring, a number of aged armchairs were sorted in a semi-circle basking in the glow of the fire. Percy took a seat in one with the highest back, and the rest found one suitable to them. As they sat each chair gave off a plume of dust making some choke and sputter for a moment
"Look around, this is your team."
Percy said sitting in a chair at the front of the room.
"Allow me to introduce everyone. Akil Mohamed Bakr, from Saudi-Arabia, will be your acting team leader."
Percy said referencing a dossier and pointing to the well dressed man from before.
"Alexis LeCross, from France. You will be working as the teams tracker, I have read you are quite adept at picking up the scent of dark wizards."
A stark lean man with a scruffy thin beard nodded.
"I would say that is a bit of an understatement of my abilities.""We will see LeCrosse."
Percy shot back, returning to the dossiers.
"James Anthony Heartwell, from Texas, Stateside."
He gestured to a short stocky man.
"You have some of the best figures I have seen from American Aurors. You're our combat specialist; let's see if you Americans fight as well as you say."Anselmo Cidolfus Lucientes, from Spain. His potions expertise has influenced many academics working for the IMU. For lack of better words, you'll be working as our medic."Mai Lee, from Australia."
The team turned to a young woman with obvious Asian heritage, a cat weaving it's way between her legs.
"I hope that your premonitions can keep this team out of trouble. You will be our seer. And last but not least we have Ewan Finlay, from Scotland."
Percy gestured to Ewan sitting behind the rest of them.
"I heard you were one of the men leading the Scottish forces in Edinburgh."
Ewan replied with nothing but a small nod.
"Ewan is an exceptionally skilled Animagus, and will be running the team's reconnaissance."Now that we know our roles, you will be leaving tomorrow via portkey that should land you on the outskirts of the school grounds, or what is left of them. I suggest you use the time being to get what rest you can."
Percy stood and paced towards the door, leaving the rest of them seated. He stopped and turned to them at the doorway.
"I know times are dark, and that leads to us using whatever we can to survive. But I don't want any of you using Unforgivable Curses. It is the only thing that separates us from them. Any of you use even one of the Unforgivable Three, you will be answering to me."
He said sternly. And with that, he turned and left through the door.
---
OCC: Sorry for the delay (computer issues and all that jazz), your first post should be you getting to know the team. The IMU manor is huge, so feel free to take some liberties with the layout, it's just like every other magic building ever written about, vague and confusingly huge.
Edited by P.J. McKrafty, 31 July 2011 - 11:27 PM.