nightscapture
Member Since 11 Nov 2010
Offline
Last Active Dec 02 2010 03:29 PM
yep, oh and to solve the issue on what to call me, Night or Roseru is fine. I'm not like, extremely formal or anything.
Updated 15 Nov · 0 comments
About Me
WARNING!
DO NOT LOOK AT THE PICTURE BELOW FOR MORE THAN FIVE SECONDS!
If you do, than the angel of death will come and kidnap you...no joke.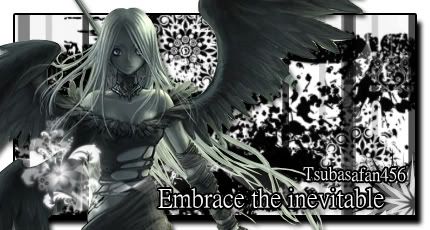 Hello peoples (or whatever else you may be)! It's yours truly, one of the weirdest goths around, Nightscapture!


You want to know about me, right? Well, let me warn you...you might regret it...
Name: Roseru (I don't care what suffix you add...but if you call me Roseru-kun...I think there's something wrong with you)
Age: 13
Gender: Female
Ethnicity: Chinese (get out if you're racist)
Star Sign: Gemini
Interests: Bloody anime, gothic books, singing vocaloid songs
Theme Song:
Fear Garden-Rin Kagamine
Favorite Quote:
Personality: I'll admit it alright, I'm totally gothic. But there's more to me than that. I act very differently depending who I'm with. If I'm with friends, than I'm a total crazy goth, and like basically any gemini girl. And yes, I am a bit manipulative towards people, but not on intention. If I'm with anyone else, like other classmates at school, they only see me as someone who's extremely studious, quiet, and has odd interests...
By the way? See him? He's MINE! Get it!? MINE!
---
Community Stats
Group

New Members

Active Posts

10

Profile Views

1,466

Member Title

New Member

Age

16 years old

Birthday

June 4, 1997

Gender

Female

Location

Wallingford, PA, USA

Interests

Manga, anime, drawing, reading, watching bloody stuff, writing fanfictions and finding really weird VOCALOID songs
Viewing Profile: nightscapture